Upcoming Events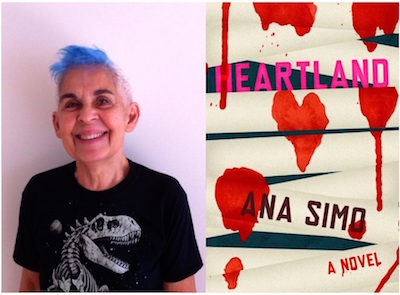 Surprise Bookshelf Series: American Writers Museum
Reading and conversation with genderqueer Appalachian poet C Russell Price. Tickets
When: Tues. June 5, 6 p.m. CDT
Where: American Writers Museum
180 N. Michigan Ave, 2nd Floor
Chicago, Illinois 60601

Past Events
Bureau of General Services Queer Division
Reading and conversation with Sarah Schulman
When: Saturday, March 24 at 7 PM - 9 PM
Where: BGSQD, @ The Lesbian, Gay, Bisexual & Transgender Community Center
208 West 13th Street, Room 210
New York, NY 10011

KGB Bar Lit Series
Reading and conversation with Sadia Abbas, Women's and Gender Studies professor at Rutgers University, fiction writer, and the author of At Freedom's Limit: Islam and the Postcolonial Predicament.
When: Sunday, January 28 at 7 PM - 9 PM
Where: KGB Bar & Lit Mag 85 E 4th St, New York, New York

Heartland Launch
Ana Simo in conversation with Alisa Solomon, professor at Columbia University's Graduate School of Journalism, where she directs the Arts & Culture concentration in the MA program. A theater critic and general reporter for the Village Voice from 1983 to 2004, her first book, Re-Dressing the Canon: Essays on Theater and Gender, won the George Jean Nathan Award for Dramatic Criticism.
When: Wednesday, January 24 at 7 PM - 8:30 PM
Where: McNally Jackson Books, 52 Prince St, New York, New York


"Resist, Rebel, Transgress"
With Ana Simo and Susana Cook
When: Friday June 2, 2017 at 7:00 pm
Where: Bureau of General Services - Queer Division, 208 West 13th Street, Room 210, New York, NY, 10011
On Friday June 2, Ana Simo, author Heartland, will read with performer Susana Cook as part of The Lesbian Avengers: 25th Anniversary Exhibition event series at BGSQD.
Susana Cook was born in Argentina, and is a New York based performance artist who has been writing and producing original work for over 20 years. She has presented over 17 original plays in New York and around the world. Her cast is comprised mostly of minority and queer women.